Bord na Móna's Lough Boora Discovery Park Scoops Travel Industry Award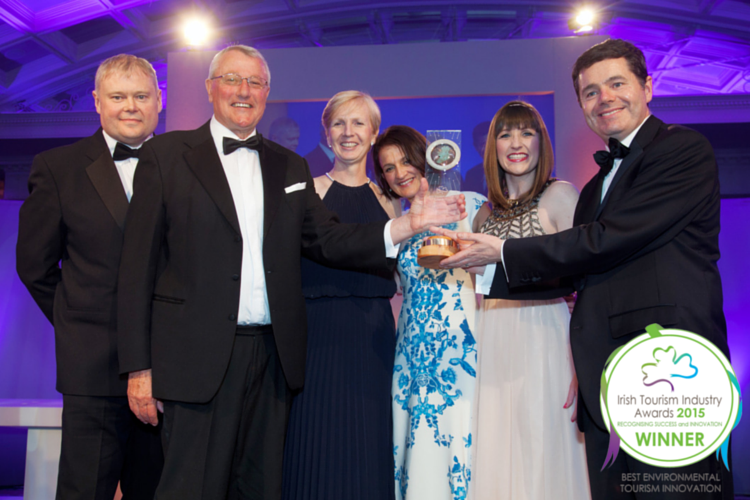 Bord na Móna's Lough Boora Discovery Park has scooped the Best Environmental Tourism Innovation award at the biennial Irish Tourism Industry Awards. The prestigious ceremony took place on Friday 24th April at the Doubletree by Hilton Hotel in Dublin.
Celebrating Ireland's most successful and innovative tourism initiatives, services and experiences, this is a hugely welcomed accolade for Bord na Móna which has developed Lough Boora into a spectacular amenity for families, walking enthusiasts, cyclists and angling fanatics.
The award is in recognition of Lough Boora Discovery Park's continuous commitment to the development and promotion of innovative tourism. Lough Boora Discovery Park is a first in class example of an amenity that emphasises harmonious integration with the environment and maximises protection of environmental resources.
Last year, Lough Boora Discovery Park officially opened its on-site visitor centre and café which acts as a point of information for visitors providing maps of designated nature trails and walking and cycling tracks. The aim of the design for the visitor centre was to be innovative and empathetic to the surrounding environment. The architectural objective was to preserve and enhance the visual environment. At each stage of the build, the focus was on the use of green material in order to produce an eco-visitor centre. The visitor centre was officially opened by Minister Alex Whyte in September 2014..
Recently the parklands hosted the 'Boora Bunny Egg Hunt' family day out which attracted over 3,000 visitors. Open all year round, Lough Boora Discovery Park also includes a bike-hire initiative for families and visitors to enjoy the spectacular sculpture trail which also offers educational information allowing visitors to embrace the fascinating history of Lough Boora.
Bord na Móna's Sara Byrne said: "We are absolutely thrilled to have won this incredible and reputable award. Lough Boora Discovery Park is a fantastic amenity for the local community. The team there work tirelessly to ensure that each visitor enjoys a fantastic experience and with dedicated cycling and walking trails, gorgeous lakeland's and historic sites we encourage all of our visitors to grab a map, and enjoy and discover everything that stunning Lough Boora has to offer'.
For more information and updates on the event  follow us on Twitter @loughboorapark or join us on Facebook at www.facebook.com/LoughBooraParklands.