Wider park trails are open 7 days a week.
Main car park is open for use daily from 9.30am – 6pm and the parking charge is €5 – all funding from the carpark goes directly back into the upkeep of the parklands.  Gates are automated and will open automatically to exit carpark after 6pm.
The Organic Kitchen cafe is Saturday's & Sunday's only from 10am – 5pm. 
Visitor Information & Gift Shop open Daily from 11am-4.30pm.  Closed from 1-2pm Saturday, Sunday, Monday & Tuesday.
Bike rental is open  Saturday from 10am, Sunday & Bank Holiday's from 11am with last rental at 4pm daily.
Guided Tours and Visitor Information:
Tel: 057 9340010
Mob: 087 9904234*
Email: info@loughboora.com
Bike Rental:
Tel: 0875 173 5204
Email: bikerental@loughboora.com
*For any emergencies during the autumn and winter months, please contact us via mobile.
Access visitor information, public toilets, cafe, picnic area and car park – all walking and cycling routes start from the cafe.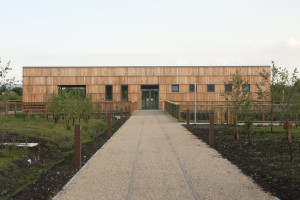 Lough Boora Discovery Park offers five routes for all ages, abilities and interests. Prepare for your next visit and download our detailed route maps.  Collect a map at our visitor information & gift shop at our newly repurposed rail car.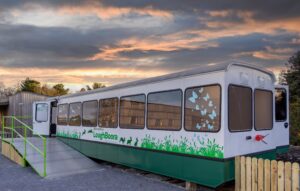 Located in the heart of Ireland, Lough Boora Discovery Park can be accessed from Tullamore, Birr and Clonmacnoise.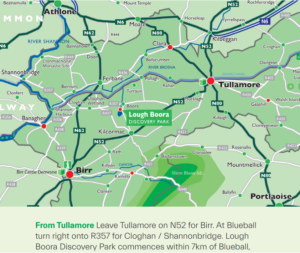 Prepare for your trip to Lough Boora: