Public meeting on future of Lough Boora Sculpture Park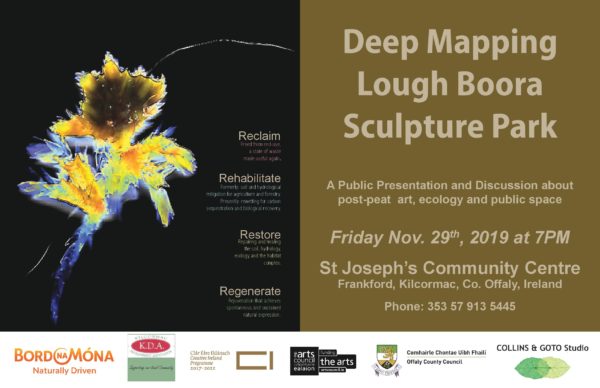 Public meeting on the future development of Lough Boora Sculpture Park
Friday, November 29th, 2019 at 7pm
St Joseph's Community Centre,
Frankford, Kilcormac, Co. Offaly, Ireland.
You are invited to a public meeting on the future development of Lough Boora Sculpture Park. There will be a presentation of the results of a Lough Boora Development workshop earlier that day entitled, 'Deep Mapping Lough Boora Sculpture Park', that the public can contribute to, comment on, and share in.
Workshop outcome to be discussed:
Deep Mapping Lough Boora Sculpture Park
Reclaim  | Rehabilitate  | Restore  | Regenerate
The daytime invite-only workshop will discuss the topics of art, post peat restoration and carbon futures. A range of artists, arts administrators and ecologists will be attending with members of the community to talk about three future options. Information on the workshop is below.
The daytime workshop is co-hosted by Tim Collins, Reiko Goto and Deirdre O'Mahoney, with significant support and input from Thomas Egan of Bord na Móna.
The first generation of artists at Lough Boora reflected upon the large-scale excavation, material and transport infrastructure of the peat extraction operation. In essence, that body of work reflects a social appreciation of the labour and scale of mechanization that enabled the industrial harvest of peatland.
Currently, the focus is upon a brown to green challenge, the art and science of reclamation, rehabilitation, restoration, and regeneration that needs to occur as Bord na Móna moves from resource extraction to renewable energy and new forms of land stewardship.
Another way to think about this is, the first generation of artists were able to benefit from the economic engine of peat production and the support of visionary land managers and an open-minded workforce accustomed to large scale design and construction.
The next generation will need to secure a relationship within the paradigm of ecosystem services and the global focus on carbon sequestration. The challenge is to find a way to make artwork that opens a space to imagine new social, ecological and economic relationships between the Boora lands and proximate local communities.
To confirm your attendance or find out more please call 057 913 5445