Birdwatching walking tour led by Ecologist at Lough Boora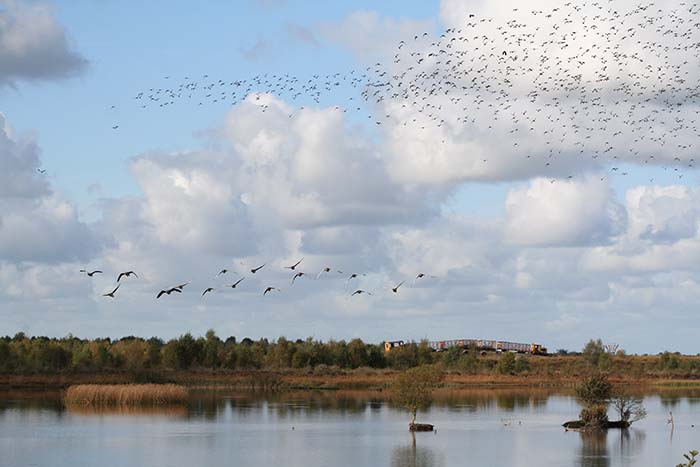 Bord na Móna ecologist, Dr. Alex Copland, is leading a winter birdwatching walk at the Lough Boora Discovery Park this Saturday, November 23rd.
The walk will start from the thatched bird hide at Boora at 11am and finish at about 1pm. It is a gentle walk on the footpath network and is suitable for families and beginners.
The walk will focus on birds that arrive in Ireland for the winter – in particular, wetland birds such as Whooper Swan, Wigeon and Golden Plover. It will also keep an eye open for winter thrushes (Redwing and Fieldfare) as well as some commoner birds that are usually easier to see in winter, such as flocks of Chaffinches or Reed Buntings.
The birdlife guide, Alex Copland, points out: "If we're lucky, we'd hope to spot one or two of the scarcer birds that are regularly found in the Discovery Park, such as Little Egret, Hen Harrier or Grey Partridge."
The tour will finish around 1pm so everyone can warm up with a hot-chocolate or mug of tea at the Discovery Park café!
Participants should bring clothing suitable for the weather conditions (as we'll be outdoors!) as well as suitable footwear (wellies or walking boots). Winter birds don't mind the weather too much, so everyone needs to wrap up against the wet and/or cold. As we'll be following the tracks and trails around the Discover Park conditions underfoot should be easy enough, but strong, waterproof footwear is still recommended.
About your guide:
The walk will be led by Dr. Alex Copland, an ecologist with Bord na Móna based at Boora. Alex has been watching and conserving birds at Boora and on Bord na Móna's wider cutaway peatlands sites for over 15 years and has recorded over 100 different bird species on cutaway peatlands (although we're not expecting to see all these on Saturday!).
The tour is operated as part of the Offaly Naturalists Field Club Programme and is free of charge.
Please Note: the date for this tour has been brought forward a week from the printed programme.