A Family Day out of 'Giant' proportions at Lough Boora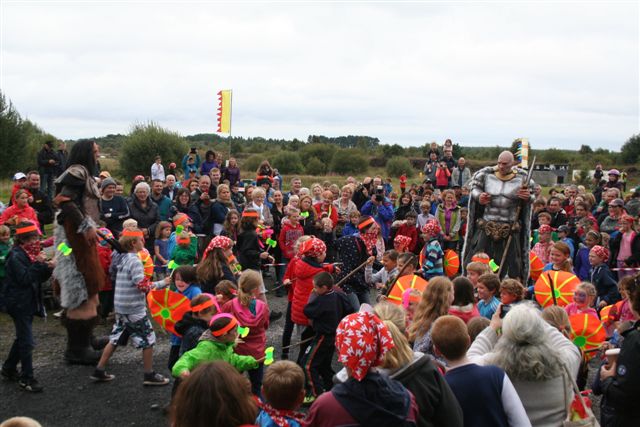 Over 2,500 visitors from across the country participated in this year's Battle of Giants Family Day event at Lough Boora Discovery Park in Co Offaly on Sunday 24 August 2014.
As part of National Heritage Week, the event celebrated Irish Myths and Legends and featured a battle between Fionn Mac Cumhaill and the Scottish giant, Angus, with the assistance of mini warriors using their handmade armour battle shields, helmets and axes from the day's workshop activities.
Fionn Mac Cumhaill and his army came away from the first battle with a victory, only to be defeated by Angus and his loyal warriors in the second battle of the day!
Children entered a Colouring Competition in the Kids Zone and took part in drumming workshops, archery tag and zorbing, with the park's walking and cycling trails busy throughout the day.
The new Visitor Centre was humming with activity as families used the bike hire service and new cafe facilities at Loch an Dochais.
The free Family Day at Lough Boora raised over €4,500 for children's charity Barretstown as part of their 20th Anniversary celebrations this year, through the generous donations of attendees.
For more information about future events and activities for families, schools and visitors of all ages and abilities, visit testing.loughboora.com, follow the #loughboora hashtag and connect with Lough Boora Discovery Park via Twitter @loughboorapark, Facebook and YouTube.