National Bike Week Whizzes into Bord na Móna's Lough Boora Discovery Park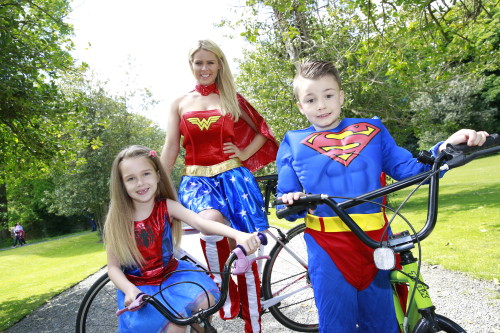 Prepare to discover and explore Bord na Móna's Lough Boora Discovery Park as it is transformed into a cycling frenzy to celebrate National Bike Week this June!
Taking place on Sunday 21st June from 12 noon until 4pm, Bord na Móna is inviting families and cycling fanatics to join them for a huge range of fun-filled activities for the whole family, while also taking the opportunity to explore the spectacular cycle trails Lough Boora Discovery Park is renowned for.
Exciting activities on the day will include a Superhero fancy dress bike race, a slow bike race – the only rule is that cyclists must keep moving!, a thrilling obstacle course packed with plenty of surprises and a tight rope contest with prizes for the winners. Lough Boora's resident Bike Doctor Pat Barrett will also be on hand to offer tips to attendees on how to maintain their bicycles, along with the need-to-know advice on how to fix punctures and how to adjust saddles. For families that don't have their own bikes, there will also be a bike hire service available. You can also hire a baby trailer that hook onto the back of the bike which is suitable for 2 younger children up to 5 years.
As well as the thrilling cycling activities, there will also be a number of exciting events for younger attendees to enjoy including a Lough Boora Superhero Competition where kids get to dress up as their favourite superhero and be in with a chance of winning a fantastic prize for the best costume. There will also be face painting, balloon modellers and a bike safari along the Pavillion and the spectacular Sculpture Trail.
Sara Byrne, Bord na Móna, said of the upcoming event: 'We're delighted to be hosting this Family fun day on Sunday 21st June as part of National Bike Week. Lough Boora Discovery Park has cycling routes from 3km to 50km so we have something for all ages and abilities. Bring your own bike or hire one at the visitor centre to get involved in the fun activities that we have planned on the day".
Anyone wishing to attend the event can register here.
Please note: Bike hire will be on a first come, first serve basis. Registering will not ensure that a bike will be kept aside for you.